OPENING HOURS
Summer Sunday–Thursday
Winter    Sunday–Thursday10:00 – 20:00
10:00 – 19:00Friday10:00 – 14:30
SaturdayClosed
HolidaysContact us
Tel Aviv's "White City" is a breathtaking UNESCO World Heritage Site. It has been reclaimed so because of its unique collection of Bauhaus architecture. Bauhaus Center Tel Aviv is the city's center for exploring, learning and experiencing this marvellous piece of culture.
WE KNOW TEL AVIV. YOU GET TO KNOW IT TOO.

Tel Aviv Bauhaus Tours
Certified by Israel Ministry of Tourism
A tour with our guides is the best way to understand the unparalleled architecture and urban landscape of Tel Aviv. We offer professional tours in numerous languages by expert guides, together with the Israeli National Committee for UNESCO. More than 50,000 people have enjoyed our tours in the past 20 years.
Guided Tours
Our 2 weekly Bauhaus Tours in English (2 hours) start every Friday & Sunday at 10:00 at the Bauhaus Center next to famous Dizengoff Square.
Private Guided Tours
Private Tours can be arranged and booked in advance in multiple languages.
Audio Guide (1.5 hours)
We also provide audio guides for walking tours in seven languages.
Audio Guide For Professionals (2 hours)
This tour covers the same spots as the regular tour, but it includes more information.
Bauhaus Introduction Movie
All our tours start with our comprehensive Bauhaus Center Movie. This presentation shows the urban development of the White City.
Our Exhibitions
In our gallery space we develop and host exhibitions about Bauhaus architecture and design. Our own exhibitions about Bauhaus in Tel Aviv are shown around the world.
We are happy to invite you to a new exhibition on the occasion of the 75th Independence Day of Israel! A selection of works by contemporary Israeli artists present their interpretation of Herzl's vision in the media of painting, illustration and sculpture.
The exhibition is accompanied by the book 'Herzl's Vision Today', published to mark the 120th anniversary of Herzl's utopian book 'Altneuland', an initiative of Carol Manheim, publisher of Artists Choice Editions.
The book contains a variety of articles and images by dozens of Israeli artists, some of whom are participating in this exhibition.
The exhibition will be on display at the Bauhaus Center Tel Aviv until June 25, 2023.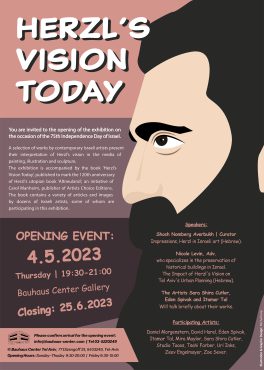 Bauhaus Center – All About Bauhaus in Tel Aviv
Bauhaus Tours, Shop, Gallery since 2000
The Bauhaus Center Tel Aviv was established in 2000. Its goal is to expand public recognition of the "White City" as a unique architectural and cultural site. The center holds a gallery with a permanent collection and changing exhibitions, conducts guided tours of the city and publishes books dedicated to the subject.
We cooperate with UNESCO, the municipality of Tel Aviv-Yafo and institutions, museums and galleries world-wide.
Exhibitions of the Bauhaus Center have travelled the world, and the center has been featured extensively in media reports and travel literature.