About The Bauhaus Center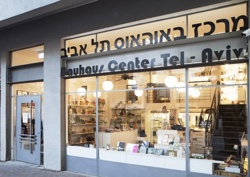 Bauhaus Center Tel Aviv was established in 2000 by Dr. Asher Ben-Shmuel, Shlomit Gross and Dr. Micha Gross. Its goal is to expand public recognition of the "White City" as a unique architectural and cultural site.
To achieve this, the center holds a gallery with a permanent collection and changing exhibitions, conducts tours of the city and is a publisher dedicated to the Bauhaus subject. The center cooperates with the Israeli Committee for UNESCO and the municipality of Tel Aviv-Yafo as well as with various institutions, museums and galleries.
Tours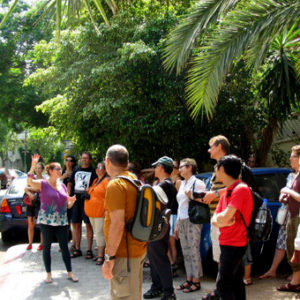 The best way to understand the virtues of Tel Aviv's unparalleled architecture and urban landscape is through our concise guided tour.
The center, together with the Israeli National Committee for UNESCO, offers the most professional tours, given by expert guides and licensed by the Ministry of Tourism. Over 15,000 people have taken our tours over the last 10 years! Our tours are offered at various times and numerous languages and are continuously fully booked. If you want to stay spontaneous or can't make it for one of our guided tours, we provide audio guides in various languages and accompanied by videos and maps.
The Bauhaus Center White City Tour starts every Friday at 10:00 at the center.
Find out more about our Bauhaus Center Tours >>
Exhibitions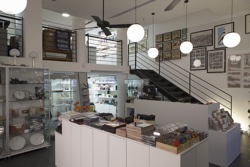 Our center includes a gallery hosting changing exhibitions about Bauhaus architecture and design, the city of Tel Aviv and contemporary art, design and architecture.
Learn more about our Exhibitions at the Bauhaus Center, Tel Aviv >>
Shop
The center's shop includes a bookstore and a designers boutique. The bookstore focuses on Bauhaus history and legacy, the city of Tel Aviv, design and architecture. The boutique offers original Bauhaus items as well as contemporary Israeli design. If you are not visiting Tel Aviv in the near future, some of the items are offered in our online store.
Special Discount for Docomomo International Members!
Many of our Design Souvenirs, Books, Posters and Gifts are available for Online Orders >>
Publishing House
Our center in also a publishing house in its areas of expertise: Bauhaus, Tel Aviv, architecture and design. If you are an author in these fields or a book distributor, please email us and we shall respond shortly.
Take a look at the books published by us in our online store >>
What Is Bauhaus?
The Bauhaus was a school which operated in Germany between 1919 and 1933 and was devoted to art, architecture and design. The ideas and visual concepts developed at the Bauhaus School had a lasting influence on the urban planning and architecture in Israel – especially visible until today in Tel Aviv.