Bauhaus architecture is experiencing an overwhelming boost of interest all around the world in 2019, triggered by the German art school's 100 years anniversary. Tel Aviv's 4,000 Bauhaus buildings, which form part of the Unesco world heritage, are a magnet for the travellers – and for international media.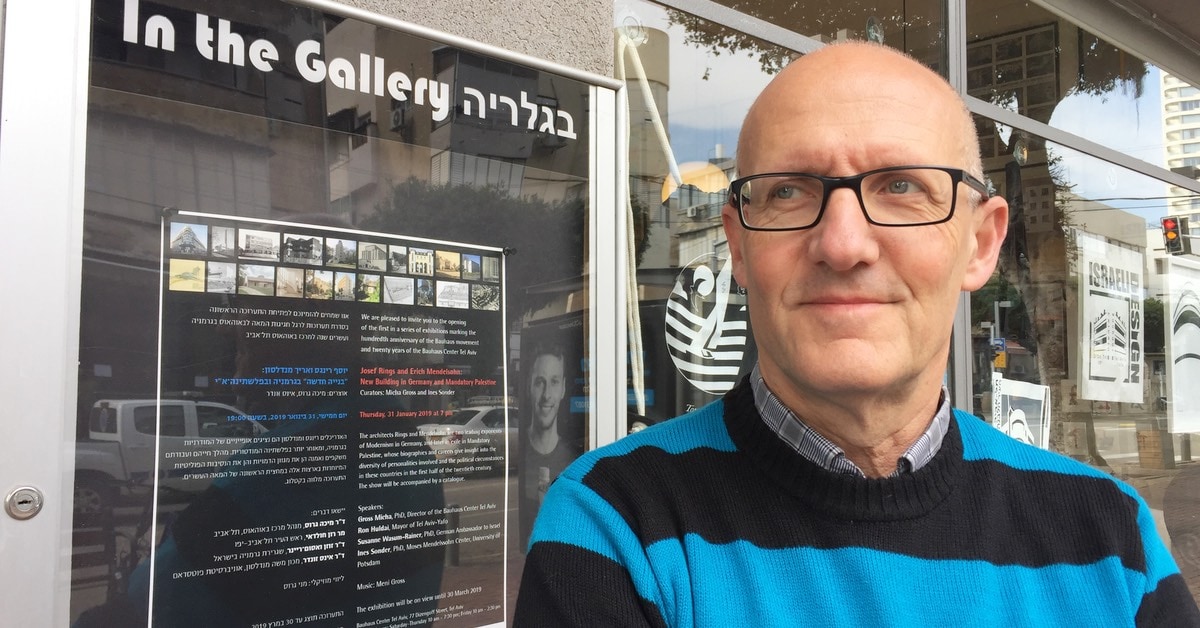 The Bauhaus Center Tel Aviv is the prime address when it comes to Bauhaus in Tel Aviv – and the center's founder Dr. Micha Gross is a leading expert on the topic. Journalists from the New York Times to the Russian Artguide have visited our tours and exhibitions and interviewed our experts in the past months. We are happy to give you an overview of selected interesting articles for further reading.
New York Times
The article portraits Ruti Broudo's renovation of an abandoned Bauhaus building next to the buzzing Carmel Market in Tel Aviv, and does not fail to mention the Bauhaus Center's activities and special program in honor of the 100th anniversary, and our mission to "raise awareness of the city's architectural treasures".
To dive deeper into matters about preservation and renewal of the White City in Tel Aviv, we are happy to point you in the direction of our walking tour, permanent exhibition, map (available for online orders), and book about Preservation and Renewal in Tel Aviv.
For the full NYTimes Article visit: Nytimes.com/2019/04/02/realestate/tel-aviv-bauhaus-architecture-white-city-unesco.html
Artguide
This renowned Russian Magazine published an extensive interview with Dr. Micha Gross in the context of the exhibition "Bauhaus – The White City of Tel Aviv", organized by the General Planning Institute of Moscow, the Bauhaus Center of Tel Aviv and the Israel Cultural Center at the Museum of Architecture. A.V. Schuseva in Moscow. Dr. Gross talks Bauhaus, Tel Aviv and the significance of Tel Aviv's White City being recognized as Unesco World Heritage.
For the full post (in Russian) visit: Artguide.com/posts/1731
National Geographic Viajes
The Spanish Edition of National Geographic Travel celebrates 100 years of Bauhaus with a portrait of four major Bauhaus cities: Weimar, the birthplace of Bauhaus; Dessau with its impressive Bauhaus Museum; Berlin, where the Bauhaus school closed in 1933, but its spirit lives on in the Bauhaus archive until today. And finally, Tel Aviv, where Bauhaus is live and kicking and can be discovered "walking in the streets of Rothschild Boulevard, Shenkin, Dizengoff, Bialik, Mazeh or Kalisher Street", as recommended by the Bauhaus Center Tel Aviv.
For the full article (in Spanish) visit: Viajes.nationalgeographic.com.es/a/que-bauhaus-nos-dejara_14016
Artribune Italy
Italy's leading art magazine Artribune also portraits the most important Bauhaus locations, starting with Germany's Dessau, Weimar and Berlin, adding Ulm's School of Design designed by Max Bill, the Haus Schminke in Löbau – and finally the White City Tel Aviv.
For more reading (in Italian) visit: Artribune.com/progettazione/architettura/2019/03/100-anni-bauhaus-itinerario/
L'Officiel Italy
Titled with the gist of Bauhaus "Form Follows Function", L'Officiel's feature describes the celebratory journey of Bauhaus, starting in Tel Aviv. The piece details the Bauhaus Center's effort to spread the Bauhaus culture with our colorful program of exhibitions, guided tours and events to mark the movement's anniversary. The journey then continues to other cities significant to Bauhaus, like Weimar, Rotterdam, Berlin and Dessau.
For the full article (in Italian) visit: Lofficielitalia.com/design/Bauhaus-tel-aviv-form-follows-function
ZDF heute in Europa
The feature story of Germany's national TV station ZDF offers a beautiful glimpse of some Bauhaus architecture in Tel Aviv and our Bauhaus tour. Watch the full report online:

ZDF.de/nachrichten/heute-in-europa/bauhaus-monumente-in-tel-aviv-100.html
Many other articles have been written in honor of a century Bauhaus. Follow us on our Bauhaus Center Facebook Page to stay up to date and learn more by this unique movement, which officially lasted for less than 15 – years but keeps inspiring us until today!