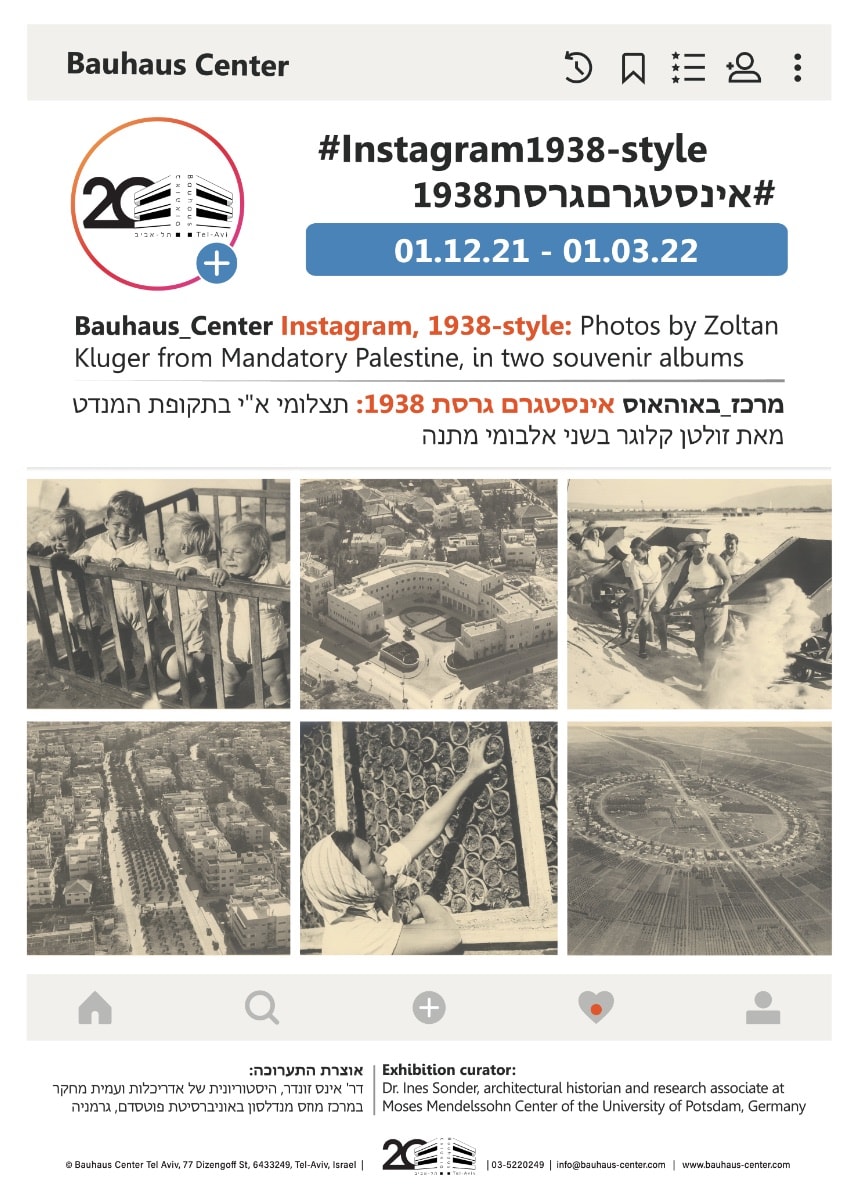 Instagram, 1938-style: Photos by Zoltan Kluger from Mandatory Palestine
Two extraordinary photo albums were the starting point for this exhibition. One folder with 40 silver prints on cardboard of aerial photos from Palestine by Zoltan Kluger (1896–1977). It was edited by the businessman and publisher Salman Schocken (1877–1959), who immigrated to Jerusalem in 1934. In September 1938, Schocken presented the album as a thank-you gift to the well-wishers who marked his 60th birthday the previous year.
That same year, Mr. S. Margolin dedicated a similar album to his friend Dr. A. Brunner; it contained 29 photographs, of which some are identical to the Schocken album. Kluger's unique photographs are a journey through thousands of years of biblical landscapes and half a century of Zionist activity in Palestine.
Most of the photographs are devoted to the history of settlement and construction in the Yishuv, the Jewish community in Palestine prior to the declaration of the state of Israel in 1948. The albums begin with the foundation of Petah Tikva and Rishon Letzion in the late 19th century, through the first kibbutzim and moshavim, and the architectural development of Jerusalem, Tel Aviv and Haifa. They end with the overnight construction of the Tower and Stockade settlements, which were built after the Arab revolt in 1936.
Zoltan Kluger served as an aerial photographer in the Austro-Hungarian army during the First World War. At the end of the 1920s he came to Berlin, where he worked as a freelance photojournalist and successfully collaborated with Nachman Schifrin (1893–1984), the owner of Presse Photo GmbH. After they were banned from practicing their profession in Nazi Germany, both men immigrated to Palestine, where they founded the Tel Aviv-based Orient Press Photo Company in November 1933.
During the first decade after Israel's independence, Kluger was one of the busiest photojournalists in the country, through his work for Keren Hayesod and Keren Kayemeth LeIsrael–Jewish National Fund (KKL–JNF) . In 1958, he left Israel and went to live in the United States.
His photographs are preserved in various archives in Israel. In 2008, the Eretz Israel Museum in Tel Aviv mounted an exhibition called "Zoltan Kluger, Chief Photographer, 1933–1958, which presented the broad spectrum of his work (curators: Dr. Ruth Oren, Guy Raz).
The comparison to contemporary Instagram culture arises from the recognition that the two albums from the 1930s, just like today's social media, aim to impress their audience with the help of spectacular photos that serve a particular agenda.
Kluger's photographs extol Zionist history: the landscapes, the inhabitants, and the "agricultural redemption of the land." In both albums, the Arab presence in the country is mostly ignored.
Our exhibition shows the Schocken album digitally, whereas the original Margolin album is presented on the spot for the first time ever.
Exhibition curator:
Dr. Ines Sonder, architectural historian and research associate at the Moses Mendelssohn Center, University of Potsdam, Germany