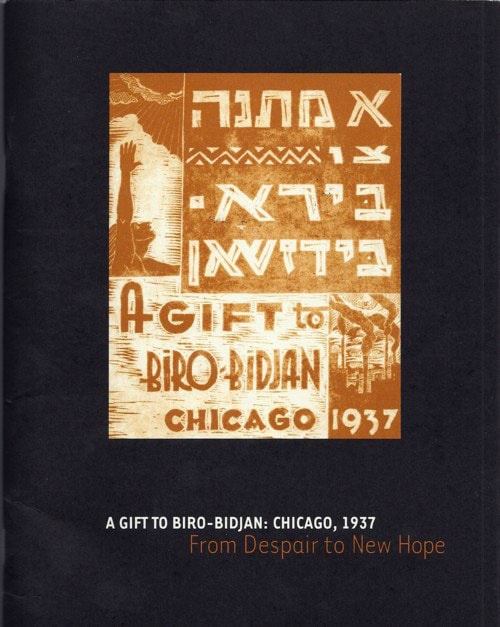 A Gift To Birobidjan: Chicago, 1937
This exhibition is an attempt to reconstruct the days of despair and hope in Chicago of 1937. It explores the struggle of idealistic artists to survive the Great Depression and to dream for better days. Despite their daily hardships, they courageously expressed their collective identity and supported their oppressed Jewish brothers overseas.
In 1937, a group of Chicago-area artists created a portfolio of woodcuts as a fund-rising project for Birobidjan, the Jewish autonomous region in the Soviet Union. The woodcut of the of these 14 artists revealed scenes of oppression and despair against images of "new hope" and optimism. Some of the woodcuts expressed the hardship of the Depression in the United States or the persecution of Jews in Europe. Others conveyed the expectations of the New Deal program at home or Stalin's solution for a Jewish homeland oar away in the taiga of Siberia.
The artists who participated in this project had the freedom to select their themes for the portfolio; therefore, the 14 images reveal direct Jewish themes associated with the Birobidjan project, as well as universal motifs of social justice or Depression-era events. In some instances, there are dual meanings.
The woodcut as a graphic medium expressing individual ideas was popular during the German Expressionism at the beginning of the 20th century. They made prolific use of the leading print mediums, especially the woodcut, using he sharp contrast of black and white and the hard dramatic cuts to express their souls and to turn a small format into a monumental image. Graphic works also had a solid tradition in the history of Jewish art. Jews used calligraphy to scribe in accordance with certain stylistic rules. The Jewish attachment to the book promoted the evolution of book illustrations. Jewish artists like Hermann Struck, Joseph Budko and Jacob Steinhardt, who produced powerful graphic work with Jewish themes, inspired future artists. The artist of A Gift to Birobidjan made remarkable use of woodcut techniques to promote their ideas. Black silhouette, where the artist carves out background spaces from the wooden black, was applied mainly for the motif of "despair". White silhouette where the artist carves out the area of the subject, was used primarily for the motif of "new hope". The dramatic contrast of black and white woodcut emphasizes the symbolism of "dark" versus "light" and "despair" versus "new hope".
From Despair to New Hope. The exhibition is courtesy of the Koehnline Museum of Art, Oakton Community College, DesPlaines, Illinois.
Artists: Alex Topchevsky, William Jacobs, Aaron Bohrod, David Bekker, Louis Weiner, Mitchell Siporin, Edward Millman, Fritzi Brod, Bernece Berkman, Morris Topchevsky, Abraham S. Weiner, Raymond A. Katz, Todros Geller and Ceil Rosenberg.